No matter how prepared you are for being pregnant and no matter how delighted you are, there's one thing you're never quite mentally prepared for…the first time you realise your jeans no longer fit. Obviously you know it will happen eventually, but it's one of those moments when it truly hits you that the baby growing inside you is a reality. Getting ready for work becomes a nightmare because suddenly (and it seems like it happens almost overnight) nothing fits.Social Mama Community Founder, Elisha Fiorentino knows exactly how it feels! "I'm not going to lie, I did have a meltdown and slightly freak out a bit (Sorry, hubby!) but thankfully, I discovered Mama Muse," Elisha confessed.
Maternity wear over the decades hasn't really been very flattering. Back in the 1860s it was more socially acceptable to conceal your pregnancy, which brought about the introduction of the maternity corset. They were even given the thumbs up by doctors. Corsets, as you can imagine from all accounts were exceptionally uncomfortable.  During the mid-1930s, it was more fashionable to hide your baby bump with baggy dresses with prints or polka dots.
When you're a prenatal mum and in between stages where everything just feels uncomfortable,finding maternity wear that suits your style can be quite difficult. For Elisha finding Mama Muse's range of maternity and postpartum clothing was love at first sight and she got excited about styling my bump.
"I absolutely adore Mama Muse's range of maternity clothes. The fabrics are soft and feminine and keep you feeling cool during those hot summer months, which is needed especially when you live in Queensland," Elisha said.
The Mama Muse dress Elisha fell in love with you could describe its style as being a little bohemian chic, baby doll style. It's light and floaty.

"You would not believe the number of compliments I got from people, even strangers. Even though I was a little taken back, it made me feel pretty and a little more myself – a nice change from feeling drained," Elisha said, recalling her early stages of pregnancy.

The best news of all though is Mama Muse have given the Social Mama Community a discount code for all of you new mums to be who want to purchase from their website.
"Before I got pregnant, I'd hear people say how wonderful it was to know you're carrying precious cargo and that you radiate a special glow only pregnant women have, but to be perfectly honest, I'd been feeling positively rubbish. Almost like I'm permanently hung over and feeling sick – so to slip into the Mama Muse dress and feel girly, and pretty for a few hours was absolutely amazing. Mama Muse gave me the glow I'd been so desperately hoping for."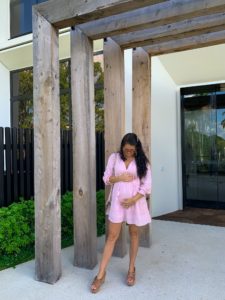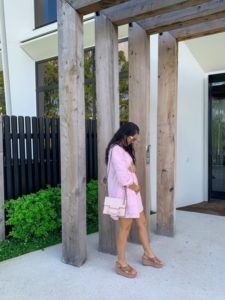 If you'd like to purchase maternity clothing from Mama Muse, please use the code ELISHA20 for 20% off and please tag Social Mama Community if you purchase something and let us know what you think.