Social Mama Founder, Elisha Fiorentino reviews the Boori Oasis Oval Cot
One of the more exciting things about being a mum is planning for your baby's arrival. Planning the nursery, choosing the baby furniture and selecting all the accessories you need to make mum life as easy as possible can be overwhelming with all the different products available.
At Social Mama, we're doing our best to highlight the best baby products with comprehensive product reviews and tips guaranteed to make your parenthood choices a breeze. Founder of Social Mama, Elisha Fiorentino reviewed the Boori Oasis Oval Cot. Take a look at the standout features and our findings.
Designing a jungle themed nursery, Elisha wanted a cute cot that seamlessly blended in with her nursery decor, but that was also practical and sturdy enough to withstand the demands of family life. It was love at first sight when she saw the Boori Oasis.
The standout features of the Boori Oasis Oval Cot

Maximum airflow and visibility
The oval shape of the Boori is not just designed purely for looks. The unique shaped spindles are created for maximum airflow—essential when you live in a tropical climate like Queensland. Unlike the traditional cots previous generations have used, the design is also created for easy visibility so at a glance, whether it's located right next to your bed in those first initial weeks or a few months down the track when you move the baby into their nursery.

Portable
Boori have truly thought of everything when designing this cot. The fact that it is easily wheeled from room to room and created to fit through standard door frames is a godsend. You can move the oval cot anywhere in your house or apartment with ease. The castors are locked into place or can be removed if you're looking for a more permanent feature in your nursery.

Made from sustainably sourced materials
If you're a mum who wants to ensure she's doing her part for the planet, you'll also love that Boori has thought about the environment by using sustainably sourced solid wood. Beautiful paint finishes are achieved from applying Boori's unique Eco-Blend Bio-Paint made from renewable plant extracts including soybean and corn.

Versatility
Baby furniture can be quite expensive and it's annoying your little ones outgrown their cot or bassinet so fast. It is one of the reasons many people buy second hand. However,  if you're a new mum, it's nice to have a few new things for your first baby so one of Elisha's  favourite features of the Boori Oasis was it is designed to transition as your child grows. It can become a bed for your toddler or even a sofa.
The set-up of the Boori Oasis Oval Cot

Part of the fun of preparing for parenthood is learning to have patience and any flatpack cot is sure to put your nerves to the test. It's one of the fun tasks you can involve your partner in.  Even though Elisha's husband is a firm believer that flatpack instructions are only there for idiots, the set-up was relatively easy. No tears, no tantrums and no left over pieces. #winning

Boori Oasis Oval Cot: Life with Baby
9 stars out of 10 stars! Elisha has adored using the Boori Oasis Oval Cot. The ability to transport it from room to room means she can put Baby Leo down for a nap in the lounge room, if he won't settle and then she can simply wheel him into the nursery. She loves the adjustable height feature, so you are able to put it at the perfect level to ensure you have 100% visibility.

No one is perfect, so the Boori loses just one star because it can be a little pricey for mums on a budget, particularly since the oval mattress which is unique to Boori is an additional extra. But in all other areas, the Boori Oasis romped it home. It comes with the Social Mama tick of approval.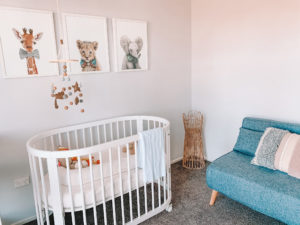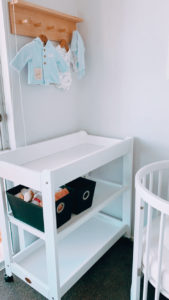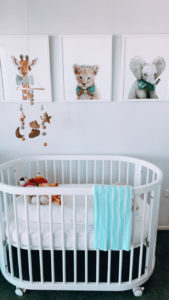 Here are the links to the products if you'd like to check them out: Boori 3 Tier Changer & Boori Oasis Oval Cot.